If Server 1 - Main player shows errors for you, Choose different server from dropdown at top left corner of the player.
Use comment section to report errors/problems.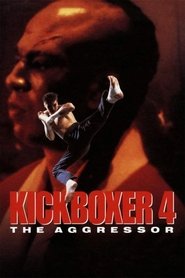 Kickboxer 4: The Aggressor (1994)
Sasha Mitchell ("Kickboxer 2&3") triumphanty returns to the ring as David Sloan, fighting not just for his survival, but for his beautiful wife, who has become the sexual captive of the despicable world champion, Tong Po. Framed, forgotten and furious, Sloan has been wasting away in prison, but the Feds agree to release him, if he will lead them inside Tong Po's impenetrable Mexican fortress, protected by its deadly guards and adorned by its sexual slaves. Sloan reluctantly teams up with a female fighter to gain entry into Po's tournament of champions, a savage battle where winner takes all – and to Sloan – that means everything!
Duration: 90 min
Release: 1994